Smoothies are a wonderfully fun way to get your daily servings of fruits and vegetables. If you want to start 2014 off strong, looking and feeling good, try out one (or all) of these fantastically delicious smoothies!
1.
Berry Crush
Satisfying, sweet berry smoothie!
3 1/2 oz. fresh orange juice
3oz. cranberries
5oz. raspberry sorbet
Raspberries & cranberries to garnish
2.

berry bonanza
Deep lilac and pleasantly smooth.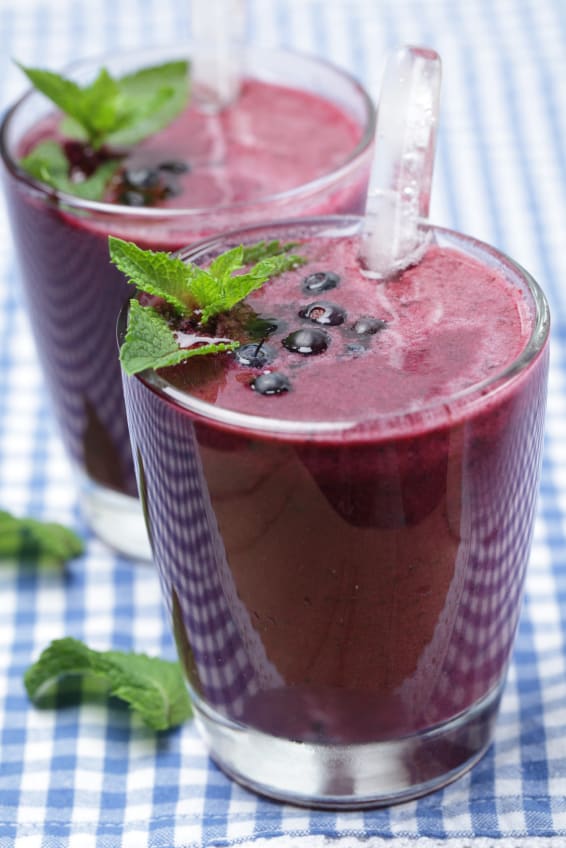 3 1/2oz. pure apple juice
4 1/2oz. vanilla yogurt
2 oz. blackberries
2 oz. blueberries
Extra berries to garnish.
Place the apple juice and yogurt into a blender then add the berries and blend until smooth. Pour into glass over ice & garnish.
3. wonder whirl
A rich juice with a peppery tang.
3/4 oz. wheat grass, (rinsed & chopped)
1 small garlic clove, peeled
2 celery sticks, trimmed
3oz. watercress
ice cubes to serve
Extra wheat grass blades to garnish.
Juice the wheat grass, garlic & celery together, then juice the watercress a little bit at a time. Blend the two mixtures together. Pour into a glass over ice and garnish with wheat grass.
4. Pineapple pleasure
Creamy and fresh.
4 ice cubes
1 pear, peeled, quartered & cored
1/4 medium-sized pineapple, peeled, core & eyes removed and flesh cut into chunks
8 large fresh mint leaves, plus extra to garnish.
Place the ice cubes in the blender and give it a whizz, then add the rest of the ingredients and blend until smooth. Pour into a glass & garnish with mint.
4. Green sleeves
This dark and velvety green drink will fill you up fast and give you the energy you need throughout the day!
2 tsp. spirulina
3 1/2oz. milk
4 1/2oz. natural yogurt
1 banana, peeled & chopped
1 Tbsp. honey
Put all ingredients into a blender and blend until smooth. Pour into a glass and serve chilled.
5. oatmeal protein smoothie
This smoothie will satisfy your hunger for hours & give you a great punch of flavor!
1/4 oats
1 Tbsp. peanut butter
1 Tbsp. coconut oil
1 c. milk
1 scoop protein powder (preferred flavor)
1 tbsp. flax seed
1 dash cinnamon
Blend dry oats and flax seeds first. Add remaining ingredients and garnish with dash of cinnamon. Enjoy!
To those of you still skeptical, check out:
*Health benefits of smoothies*
natural weight loss

Increased fruit/vegetable consumption

Easy digestibility and nutrient assimilation

Antioxidants

increased energy

mental clarity & focus

better skin

increased fiber intake

rich with chlorophyll

Alkalizing

easy clean-up

stores well

tastes great
It's a no-brainer!
Technorati Tags:
smoothies
,
new year
,
drinks
,
2014
,
blender
,
garnish
,
healthy
,
delicious
,
fruits