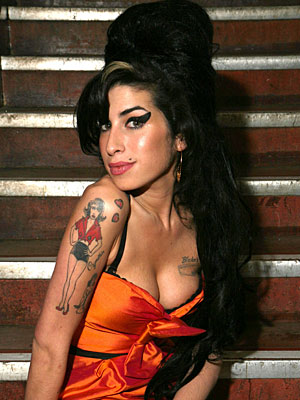 Amy Jade Winehouse -
(Sept.14th 1983 - July 23rd, 2011)
So often, the most gifted, soulful and talented people, those who can control the world with their voice alone, have little to no control of their own lives. With this being said, Amy Winehouse, just 27 years young, was found dead in her apartment in London this weekend. Another fallen star. Officials will not know the exact cause of her death until the autopsy is performed but tabloids are speculating accidental overdose or suicide.
Winehouse, known for her popular and well-fitting single "Rehab", was a chart topping British artist whose fame as well as myriad of addictions were constantly under fire from tabloids and fans alike. She admitted in a DVD that the more insecure she felt, the more she'd drink and the bigger her hair had to be! With a name like 'Winehouse' and considering her tumultuous battle with the bottle, Amy SHOULD have gone to rehab and stayed there! Winehouse was also diagnosed as 'manic depressive', yet she refused to even take medication for treatment. Long standing depression could have been the cause, but whatever it was, she had true talent and is gone too soon. "Rehab", which was written by the singer after she claimed Blake Fielder-Civil "abandoned her" in 2007, sold 1.85 million copies that year and came as a firm statement to those people suggesting rehab for her heavy drinking.
Discovered while performing with a National Youth Jazz Orchestra and signed to a division of 19 Management, the media empire of Pop Idol creator Simon Fuller, Winehouse was eventually picked up by Island Records and the rest was history.

In 2006, her album Back to Black won five Grammy Awards making her the first British singer to earn the coveted award as well as tying the record for the most wins by a female artist. Mark Ronson, the producer responsible for bringing out so many of the great moments on Back to Black, said of Winehouse: "She doesn't want to be lavished. She doesn't want people gushing over her. She just can't get anything out of it — even on the day her own album goes platinum." Some say she was just that humble, others say she was just a wreck! Amy sang autobiographies and never held back on her feelings. This being the reason so many loved her music.
She was a fashion icon, sporting her infamous 1950's 'beehive' which was even seen on Karl Lagerfeld's models, strutting down the runways of London's Fashion Week back in 2007. Her style was that of her own and she made no apologies for it. Tattoos of nude women, jet-black, contrasting eye makeup and mini's that made the word 'micro-mini' relevant were all part of her image. Not only did she make her mark in music but she paved the way for other British singers such as Adele to make it in the US. People like Lady Gaga even credit her for making unconventional fashion more accepted and appreciated. Another quality I loved about her.
Not so lovely about the star were her many failed performances, occasions where she was too intoxicated to remember her own lyrics and non-appearances due to her constant bouts of depression. She was just booed off stage in Belgrade last month after appearing too drunk to perform.
Long-time singer Tony Bennett (84) chose her to duet with him on his upcoming album called Duets II, scheduled to be released on September 20. In his interview, Bennett says that Amy was "extraordinary" and that he is deeply saddened to learn of her passing. So are we Tony... so are we! Read more of his interview here.
Another tragic story of what happens when you let your mind get the best of you. Young, beautiful and talented, yet incredibly disturbed in her own head. A mind truly is a terrible thing to waste!
Some random pics of the singer throughout her career:
Winehouse & then hubby Feider-Civil
Winehouse before & after.


Young Amy
Rest In Peace Amy!