My favourite place to sit and chill! As a coffee aficionado, this is the best spot to go on a Saturday afternoon to unwind. Not only are their flavours absolutely delish, but the atmosphere is very relaxing, the inflow of customers range from the teen looking to try out the new rasberry black currant to the executive on the run just stopping in for a quick pick-me-up before a meeting. All respecting one another and each other's space. Oh! Most importantly, free wi-fi!
Nubian Queen of Egypt.
This observation has brought me to another, more important topic. As the title says, there are many beautiful shades to all of Starbucks' delights. In the same way, there are many gorgeous shades of my beautiful, black, Bahamian sistas! I just love to see a Nubian queen walking with her head held high and proud of who she is and most importantly, who God made her to be. What I absolutely HATE, is to see my lovely sisters become brainwashed with the ridiculous idea that lighter skin is better! This notion holds true in more than The Bahamas. Nothing is more sexy and appealing than a woman who is comfortable in her own skin and exuding confidence and her own natural swag. Sure, this was true some years ago but as time goes on, more and more of us are understanding that old saying "the blacker the berry, the sweeter the juice"!
Vybz Kartel Before & After
In the Caribbean where it is sweltering hot, I can understand that already black skin is very susceptible to sunlight and tans very easily. Nothing is so wrong (to me) with wanting an evenly toned complexion and smooth skin. Those people who use skin cremes to achieve this or to lighten scars and acne marks are NOT who I am talking about. If you are like many people between the ages of 15 and 45 and keep up with the latest Vybz Kartel music, you'll know that he has significantly lightened his skin in the last few months and no longer even looks like the same person. He claims that he simply wanted to "reinvent" himself and needed a new look. He is a tremendously popular and talented Jamaican artist who has the power to lead and deceive the masses. Don't get me wrong...I do like some of his music (notice I said "some"), but not so much his lyrics promoting promiscuity, songs about his anatomy and most of all...songs about cake soap which he advocates for bleaching the skin.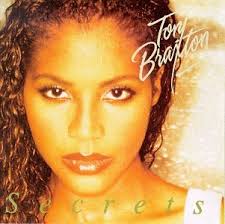 Toni Braxton
In my opinion, when you bleach out your skin like a pair of acid washed jeans, you're saying to the world, "Hey! Look at me! I'm black and I hate myself!" This is all part of the plan the racist slave masters implemented hundreds of years ago and is a form of mental slavery. Don't think that white people can't see when someone is 'bleached out'! This only tells them that you hate who you are and wish you were like them! Mental slavery is the oppression of blacks and other minorities subconsciously since physical slavery is no more. It is the system where blacks oppress each other and themselves instead of whites. Ever notice how your own kind often try to make you feel the worst? It is a vicious system that we all as a black nation need to realize and put an end to. Blacks, Indians and even Chinese believe that the lighter your skin is, the better quality of life you should have. It starts at home and so I am advocating a "Stop Bleachin'" Campaign, in conjunction with my mocha coloured Mom along with anyone else who feels as strongly about this issue as we do.
Gabrielle Union
In my day to day travels, I see so many females (some older and some younger) who have fallen victim to this trend. It looks painful to see someone of a mocha complexion with blue blood vessels showing from their forehead because her face is so light! It's sad and then very funny at the same time because they usually are so lazy, they only bleach the part of the face that they can see in the mirror and what that does is leaves a big full moon look because every other part of them is contrastingly dark and the world can see that they've been bleaching. It is even a trend in some households starting from the grandmother down a generational line. This is the real problem because the younger generation only learned what they've seen mommy, grammie and auntie do! It is not 1961 anymore when blacks were segregated and looked down upon. The president of the United States of America is half black and proud of his heritage. It is high time we adopt the same attitude of pride in who we are.
Angela Bassett
Dark skinned ladies....please love yourselves. No! I mean truly love yourselves in every form of the term. This means, do not ruin your skin for the rest of your life for the sake of a brighter image because at the end of the day, unless you get vitiligo (disease Michael Jackson claimed he had that made him white), you WILL NEVER be white! The world is such a beautiful creation because of all its diversity. There are thousands of colours and colours we do not even know existed that are so amazingly beautiful, including your own! Lisa Raye, Beyonce, Tyra, etc. are so attractive to millions. Why is that? Because they love who they are, are not afraid to show it and everyone else can see it. They do not try to change who they were made to be. Sure they act all sorts of dynamic and fictional roles and over accessorize at times (: ) but at the end of the day, they go home and live their normal lives as nothing other than themselves. The journey to self acceptance is not easy, but most rewarding in the end. No one will ever love you the way you love yourself. When you try to hide your true self, you're not only doing everyone around you an injustice by being fake, but you are indirectly telling your creator that you do not like what he has made. In my younger years, I have been called the most horrible names by my schoolmates. All having to do with the colour of my lovely skin. The funny thing about that is...all of the perpetrators - get this...WERE BLACK TOO! Ha! That, thankfully has only made me love myself more. Big uPs to all my haterzzz!!! "Sticks and stones may break my bones but words will never hurt me". If that too has happened to you, remember that there's something they love about you and are too afraid to say it if they actually take the time out to worry about how brown you are. If you live live worrying about what others think, you will never be happy. Life is too short.
Luv Ya'selves my beautiful, black queens!!!
Please don't be shy with your comments because I would like to get feedback to see how others feel about this.